Summit University's parent organization, The Summit Lighthouse, just released a brand-new eBook on relationships and love.  It's a great companion to our online extension course, RELS 0301 Relationships: Explore the Mystery of Twin Flames and Soul Mates.  Frankly, it's a match made in heaven!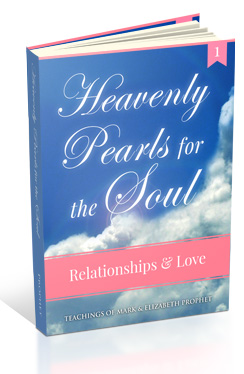 Check out Heavenly Pearls for the Soul, a NEW FREE eBook series from The Summit Lighthouse.  The first eBook, called Relationships & Love, covers such topics as:
The soul's search for divine love
The love of twin flames
Famous twin flames in history
Meet the ascended masters Paul the Venetian and Lady Master Nada
Mantras and prayers for helping you with your relationships
Teachings from Elizabeth Clare Prophet on divine love
And more!
Pair this eBook with Summit University's online extension course RELS 0301 Relationships: Explore the Mystery of Twin Flames and Soul Mates.  Our online course gives you a deeper understanding of love, relationships and how to develop and deepen the most important relationship in your life, while nurturing your other relationships.  Learn:
The cosmic story of the creation and purpose of twin flames.
How to recognize your soul mate or twin flame.
Why a loving relationship with your own soul and Higher Self is a key to successful relationships.
Marriage as an initiation on the spiritual path.
Divorce: How to know when it is time to move on.
Keys to wholeness and to mastering interpersonal ties and relationships.
Techniques to heal from self-defeating co-dependent relationships.
How to give up personal power struggles and see positive soul growth in relationships
Get started now!
Save
Save
Save